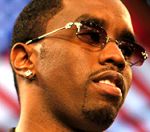 US rapper
P Diddy
has praised actor Jamal 'Gravy' Woolard, who plays
Notorious B.I.G.
in forthcoming movie about the late rapper.
P Diddy, whose real name is Sean Coombs, said he finds Woolard's portrayal of the hip-hop legend "eerie".
"Gravy's killing it. If I tell you he's killing it, then that's all we need to say, you know what I'm saying?" the rapper told MTV.
"I don't think anybody could have done a better job."
Coombs also said that he was impressed with Derek Luke, who plays him in the film.
"It's rare that you get a movie made about you when you're still relevant, but [they] took on the challenge," Combs said.
"People asked me years ago who you'd want to play me, and I said Derek Luke ... so it was just destined. I got to see him do his thing, and it was scary for me. I had to leave, 'cause he was acting just like me."
The film, entitled Notorious, tells the story of Notorious B.I.G's rise to international stardom which came to a tragic end in a drive-by shooting in Los Angeles in 1997.
The film is scheduled to be released next January.
(by Jason Gregory)