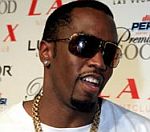 P Diddy
made history on Friday (May 2nd), becoming the first male rapper to receive a star of Hollywood's Walk of Fame.
The US rapper, whose real name is Sean Coombs, described the honour as "one of the best days of my life."
"Today is proof if you believe, all your dreams can come true," Coombs added.
The rapper's star is the 2,362nd star to be laid on Hollywood Boulevard since the Walk of Fame was opened in February 1960.
Coombs, who was born in 1969, used the ceremony to thank his family, including his late father and grandmother, who he said were "shining down on me".
The rapper also praised his mother, who attended the ceremony, saying that if it wasn't for her, "I wouldn't be here."
"You can get a lot of honors, but there's nothing that means as much as the love of your mother. This right here, I hope it makes you proud Mom," he said.
It's understood that the rapper held a £2million party to celebrate the star.
Past hip-hop musicians and R&B acts to receive the honour include Aretha Franklin and Janet Jackson.
(by Jason Gregory)