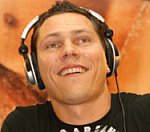 DJ Tiлsto
has announced details of a star-studded new studio album, which will be released on October 20.
The record, entitled 'Kaleidoscope', features collaborations with Bloc Party's Kele Okereke, Calvin Harris and Nelly Furtado.
Sigur Rós' Jónsi, Emily Haines and Sneaky Sound System also feature on the 17-track LP.
In a statement, Tiлsto said the album was "completely different" compared his four previous studio releases.
"I'm introducing more and more flavours of what people know as Tiлsto. This is a record you can enjoy at home, not just on the dancefloor," he added.
The 40-year-old superstar DJ has also outlined plans for a 175-date concert tour which will span five continents, starting this September in North America.
Tiлsto's last studio album, 'Elements Of Life', was released in 2007.
The tracklisting for 'Kaleidoscope' is:
Kaleidoscope (feat. Jуnsi)

Escape Me (feat. CC Sheffield)

You Are My Diamond (feat. Kianna)

I Will Be Here (feat. Sneaky Sound System)

I Am Strong (feat. Priscilla Ahn)

Here On Earth (feat. Cary Brothers)

Always Near

It's Not The Things You Say (feat. Kele Okereke)

Fresh Fruit

Century (feat. Calvin Harris)

Feel It In My Bones (feat. Tegan & Sara)

Who Wants To Be Alone (feat. Nelly Furtado)

LA Ride

Bend It Like You Don't Care

Knock You Out (feat. Emily Haines)