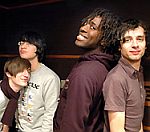 Bloc Party
reunited over the Christmas period, it has emerged.
The band - singer Kele Okereke, guitarist Russell Lissack, bassist Gordon Moakes and drummer Matt Tong - posted a picture of themselves on their twitter page.
It was accompanied by the message: "Merry Christmas from the Bloc. X"
Bloc Party have been on hiatus since they completed touring their third album, 2008's 'Intimacy', last year.
Since then, Okereke has launched a solo career under the pseudonym Kele, while Lissack has performed with Ash.
It is not clear whether the photo marks the start of a comeback for the band.
(by Jason Gregory)