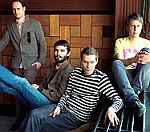 Sigur Rós
have questioned the apparent similarities between a number of songs used in TV adverts and their own music.
The Icelandic group's songs have long been used on TV shows and films, but never in TV adverts that sell a product.
However, in a blogspot on sigur-ros.co.uk, Sigur Rós said that despite turning down "a lot" of advertisers, campaigns often later appeared with "strangely familiar" sounding songs.
"We're not suggesting anyone's ripping anyone off here, or has purposely gone out to plagiarise Sigur rós music, because that might get us sued (which would be ironic)," they wrote.
The group posted links to adverts which appeared to have used songs that sound like some of the band's hits, including 'Hoppípolla'.
"What we wanted to do here was post series of ads that have made us go 'hmmm' and let you decide who's zooming who?" the band added.
'Hoppípolla', the band's biggest hit, enjoyed increased popularity after being usied as the theme for the BBC's Planet Earth in 2006.
(by Jason Gregory)