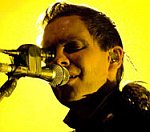 Sigur Ros
singer Jón Þór Birgisson and his boyfriend Alex Somers are to release an album together this summer.
Titled 'Riceboy Sleeps', the long-player will be released through Parlophone Records on July 20. The name derives from the moniker Birgisson and Somers used for joint art projects over the past three years.
The first fruits of their musical collaboration surfaced on the Dark Was The Night compilation earlier this year with the plaintive track 'Happiness'.
Recorded in Birgisson's native Iceland solely on acoustic instruments, 'Ricboy Sleeps' is a nine-track record that also features strings from Sigur Ros' long-term collaborators Amiina and the Kopavogsdaetur choir.
The full track-listing is as follows: