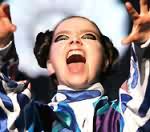 Bjork
and
Sigur Ros
will take part in a free concert this weekend that will be broadcast live on the internet.
The concert,which begins at 8 p.m. BST/London time, will take place in a large park near the centre of Reykjavik.
Its hoped that the event will help raise awareness of the impact of the growing aluminium smelting activity on Iceland's natural landscape.
Speaking about the event, Bjork said: "Too often battles being fought for nature turn into something negative and into mudslinging.
"We will not go that way, we are not saying that this and that is forbidden, we are rather asking 'what about all these other possibilities?'
"The 21st century is not going to be another oil century but rather a century where we need to recycle, think green and design both power plants and our surroundings in harmony with nature."
The concert will stream live on the National Geographic.
(by Jason Gregory)