June 19, 2008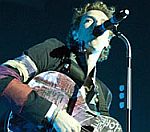 Coldplay played songs from their new album 'Viva La Vida or Death and All is Friends' during an open air concert in London last night (June 18th). The gig, broadcast live one BBC television, was the second time that the band have played the capital this week.
Read more >>

June 19, 2008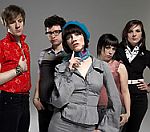 The Long Blondes have cancelled all their upcoming tour dates after the band's guitarist, Dorian Cox, was rushed into hospital. According to a statement on the band's website, Cox "is still in hospital in Sheffield in a serious condition."
Read more >>

June 19, 2008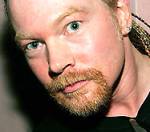 Nine new "mastered" and "finished" Guns N Roses songs, purported to be from the band's long-awaited album 'Chinese Democracy', have appeared online. The leak includes six songs that have been appeared before in unfinished form and three songs - 'Rhiad and the Bedouins', 'If the World' and an unnamed track – that are all apparently new productions.
Read more >>

June 19, 2008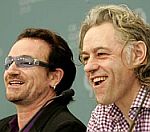 U2 frontman Bono and campaigner Bob Geldof have called the G8's commitment to help provide Africa with aid "a disgrace." When it met at Gleneagles, Scotland in 2005, the G8 promised to double aid to Africa by 2010.
Read more >>

June 19, 2008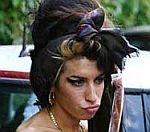 Amy Winehouse faces a long spell in hospital after she was taken ill at her home in North London on Monday (June 16th), it's been reported. The singer, who fainted whilst "doing admin", was originally admitted to the London Clinic as a precaution but was kept in after initial tests proved "inconclusive".
Read more >>

June 19, 2008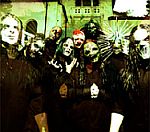 Slipknot have revealed that their fourth album will be entitled 'All Hope Is Gone'. The record, out on August 26th, "will show the road behind, the road ahead, and where we are as men," Slipknot's Corey Taylor said in a statement.
Read more >>

June 19, 2008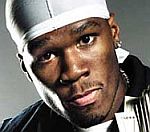 US rapper 50 Cent has described his recent meeting with Nelson Mandela as "amazing". The rapper met with the former leader of South Africa during a brief tour of the country earlier this year.
Read more >>

June 19, 2008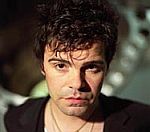 Charlatans frontman Tim Burgess has revealed that his side-project, The Chavs, plan to record their debut album. Speaking to BBC 6Music, Burgess said that the group, which also features Dirty Pretty Things frontman Carl Barat and Jamie Reynolds from Klaxons, will enter the studio in August.
Read more >>

June 19, 2008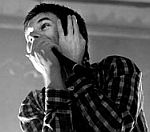 Enter Shikari have begun recording the follow-up to their top-five debut album 'Take To The Skies'. Speaking to BBC Newsbeat, singer Rou Reynolds said the as-yet-untitled record is being assembled in a bungalow at the bottom of bassist Chris Batten's garden.
Read more >>

June 19, 2008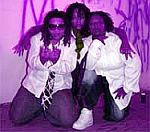 Florida female hip hop duo, Yo! Majesty, have unveiled the details on their debut album 'Futuristically Speaking…Never Be Afraid' due October 7th on Domino Records. The anticipated release will see production from Basement Jaxx, Sunship, Radio Clit, Dee kline, CLP, Mercedes and Hard Feelings UK.
Read more >>

June 19, 2008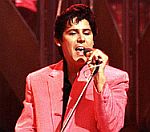 Veteran entertainer Shakin' Stevens has said that he is "very pleased" to have been asked to perform at this year's Glastonbury festival. Stevens, who will perform on the Pyramid Stage next Saturday (June 28th), said he was delighted to be playing the "biggest festival there is in Britain".
Read more >>

June 19, 2008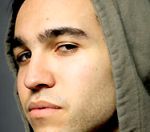 Fall Out Boy bassist Pete Wentz has been linked with a cameo appearance in a forthcoming episode of the US hit TV show Californication. The episode, in which Wentz will apparently play himself, is scheduled to air in September.
Read more >>

June 19, 2008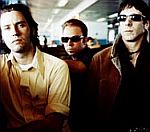 Mercury Rev have revealed that they will release two new studio albums this September. In addition to 'Snowflake Midnight', the official follow-up to 2005's 'The Secret Migration', which is out on September 29th, the band will release another LP for free.
Read more >>

June 19, 2008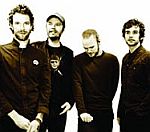 Coldplay's new album 'Viva La Vida or Death and All His Friends' will top the US Billboard album chart next week, according to early sales figures. The band's fourth album sold 316,000 copies on its first day of release yesterday (June 18th).
Read more >>

June 19, 2008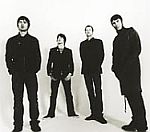 Oasis have signed a new long term record deal with SonyBMG, it's been announced. The deal, signed in conjunction with their own record label, Big Brother Recordings, includes the bands next three studio albums and the distribution rights to their back-catalogue.
Read more >>