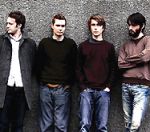 Sigur Ros
keyboardist Kjartan Sveinsson is recording the soundtrack for a new movie starring actor Colin Farrell.
The film, entitled Ondine, is about a fisherman who finds a woman in his net and believes she is a mermaid.
In addition to Sveinsson's score, a "few" songs by Sigur Ros will also appear in the film, a message on the band's website said.
Ondine, directed by Neil Jordan, is currently in post-production. The movie is due be released this year.
(by Jason Gregory)