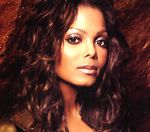 The BET Awards were dominated by
Michael Jackson
last night as stars, including his sister
Janet
, paid tribute to the musician.
The awards ceremony in Los Angeles were transformed at short notice to pay homage to Jackson following his death last Thursday.
The star's father, Joseph, joined the likes of Kanye West and Beyonce at the event, but it was Janet Jackson who appeared on stage to speak about her brother.
"My entire family wanted to be here tonight, but it was just too painful, and they elected me to speak to all of you," she told the crowd.
"To you, Michael is an icon. To us, Michael is family, and he will forever live in all of our hearts.
"On behalf of my family and myself, thank you for all of your love, and thank you for all of your support. We miss him so much. Thank you so much."
The timing of the ceremony meant the BET awards, which had yet to honour Jackson during his life, was the first Hollywood event to pay tribute to him in his death.
Jackson tributes
Host Jamie Foxx performed three times at the event, including a closer cover of 'I'll Be There' alongside R&B star Ne-Yo.
"No need to be sad. We want to celebrate this black man ... We gonna go through all of Michael Jackson," he said.
Ciara, Lil' Wayne and Jay-Z, who debuted new song 'Death of Auto-Tune', also performed live.
Lil' Wayne was also among the winners at the BET Awards and was one of many artists who honoured Jackson in their acceptance speech.
'Concerns'
As previously reported, Jackson died following a suspected cardiac arrest at his home in Los Angeles.
Before the ceremony, Jackson's father raised questioned about his death, telling reporters that he had "a lot of concerns".
The Jackson family has called for a second and independent autopsy into the singer's death after the first ruled out foul play or external trauma.
Focus shifted to Jackson's private life – and the extent of his alleged addiction to painkillers – within hours of his death.
(by Jason Gregory)