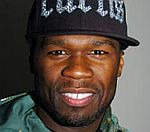 50 Cent
has said he is addicted to making his mark as a music mogul - insisting he is a success "junkie".
The rapper has proved his entrepreneurial merits by launching his own clothing range, starring in video games, and even setting up his own vitamin drink line.
And the star's hard work is paying off - he topped a chart of the biggest earning musical performers by Forbes magazine, bringing in an estimated $151 million from June 2007 to June 2008.
But the star admits he takes his work-obsessed ways too far - insisting he would go to a 'success rehab' if there was such a place.
He told MTV: "I've had a lot of success, and I plan on having a lot more.
"I feel like I'm a work in progress, and if I'm honest with you, I'm a junkie. I'm addicted to success. There's no rehab for success, or I'd go check in right now."
(by Daniel Melia)