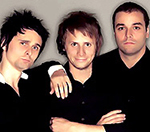 Muse
will no longer feature on the soundtrack to the third movie in
The Twilight Saga, Eclipse
, drummer Dominic Howard has revealed.
The band, who had previously appeared on the scores for the first two films in the vampire franchise, had written a "love song" for the upcoming film.
But Howard said Hollywood bureaucracy meant it had been dropped from the movie.
He told Dose.ca: "It's the people in the movie business, completely outside of the writers and the creative types, the non-creative types I suppose are the people who are quite hard to deal with in Hollywood, so it didn't work out."
However, Howard insisted that the song, which he described as "personal", would still be released.
"Yeah, yeah, we sure will [release it]. I mean, it was great," he said.
"We worked on it in Australia, we were ready to record, we were going to do some recording with Butch Vig, so we might still do it.
The drummer added: "I'm sure the song will definitely come to life for real at some point, but I think for this film it's not going to happen."
Muse's involvement in the previous films in The Twilight Saga, which stars British actor Robert Pattinson, has been influential on their recent success in the US.
The soundtrack to the last film, New Moon, also featured Radiohead's Thom Yorke, Editors and Band of Skulls.
(by Jason Gregory)