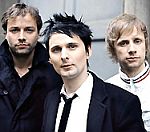 Muse
's next album could include a three-part symphony, according to frontman Matt Bellamy.
In a webchat with fans, Bellamy said he had been working on the composition, which isn't yet titled, "sporadically" over a number of years.
"As a large percentage of the composition is orchestral, I have never wanted to collaborate with a string arranger as they may make it 'theirs'," he said.
"So I have been arranging the orchestral elements myself which is taking a long time due to my inexperience with large scale scoring.
"It should hopefully make the next album as the final three tracks."
As previously reported, Muse are currently in recording sessions for the follow-up to 2006's 'Black Holes and Revelations'.
(by Jason Gregory)