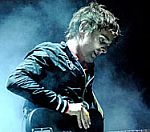 Muse
have completed the first tracks from their as-yet-untitled new album, drummer Dominic Howard has revealed.
The band began working on the follow-up to their last album, 'Black Holes and Revelations', following their performance at the V Festival earlier this month.
Speaking to the BBC, Howard said the group planned to take two weeks off before returning to their studios in Italy to start working again.
"We've already done a few tracks and it sounds great so we're just working to the future," he added.
At present, it's not clear when Muse plan to release the project.
(by Jason Gregory)