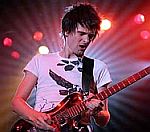 Muse
triumphed on a fantastic opening day at the V Festival in Chelmsford.
The band played a hit-laden set commencing with the strident 'Map Of The Problematique' before climaxing an hour and half later with a thunderous rendition of 'Knights Of Cydonia'.
Frontman Matt Bellamy was in typically charismatic form – showcasing why he is one of Britain's best living musicians and performers.
Highlights of the show including the mass sing-alongs of 'Feeling Good', 'Time Is Running Out' and 'Supermassive Blackhole'.
After two encores the band ended their show with a waterfall of fireworks and flames engrossing the stage – much to the amazement of the crowd in attendance.
(by James Dannatt)