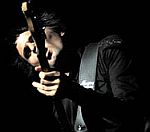 Muse
have cleared up a heated debate, denying that a
track that surfaced last night
, which features a collaboration with the
Streets
, had any serious purpose.
In a statement on their official website, the band said: "The MP3 floating around on the message boards at the moment is a track we recorded with Mike Skinner a few months ago.
"The track was the result of a late night jam session and something we did for a bit of a laugh featuring a blues riff we have been playing live recently upon which Skinner recorded some vocals.
"It is not intended to be a serious release so we are happy for it to be leaked around unofficially. Hope you enjoy, Cheers. Matt, Dom & Chris."
Despite what was previously thought, 'Who Knows Who', which only features vocals from Mike Skinner, won't be featuring on the forthcoming Streets album, 'Everything Is Borrowed'.
(by Jamie Milton)