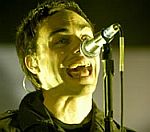 Richard Archer has revealed
Hard-Fi
's new single 'I Shall Overcome' is a tribute to his late father.
The singer's dad passed away shortly after Hard-Fi's career took off with their surprise hit debut album, and Archer says his father was always one of the few people to support his musical ambitions.
He tells XFM, "It's my old man. I was lucky enough to have someone like him and he deserves these props.
"When you're from a town like ours and you wanna be in a band, everyone thinks you're just wasting time. There's always people out there who'll tell you,'Give it up, you're not good enough.'
"There's always haters that want to criticise you and put you down just because you're there and they're not. It's about having someone standing there and saying 'I believe in you', and I was lucky enough to have that person.
"They're not around anymore, but this song's for them."
(by C Taylor)