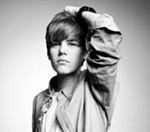 Justin Bieber
and
James Blunt
have performed covers of
Lady Gaga
's 'Born This Way'.
The song is not released until Friday (February 11), but the two singers were both asked to perform what they thought it might sound like on The Ellen DeGeneres Show.
After the US chat show host tried her own piano-led version, Blunt attempted to sing the song's chorus over the top of his hit 'You're Beautiful'.
Bieber then attempted a drum version followed by a piano rendition of the track.
When Blunt interrupted his performance, the teen star responded: "No you've just changed the key, that's still your song, 'You're Beautiful'."
Blunt then replied: "Hey listen kid I've been doing this for years, I know what I'm doing."
Interest in Lady Gaga's new single has grown this week after the singer revealed that it would be released two days before she perform it at the Grammy Awards in Los Angeles.
Justin Bieber and James Blunt cover 'Bown This Way':
(by Jason Gregory)