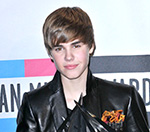 Justin Bieber
could be set to star alongside Mark Wahlberg in an upcoming film, it has been revealed.
The actor, who had previously described Bieber as 'the white Tupac', said the pair are in talks about making a film together.
"Justin Bieber and I are going to do a movie together. He loves the idea. He's been sending me video, he sent me a video of himself, and, yeah, I think he's really talented," Wahlberg told New York magazine.
The film is said to be drama in which Wahlberg plays a inner city mentor, no release date has been set.
(by Holly Frith)