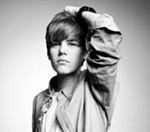 Justin Bieber
has blasting the paparazzi for disrupting his trip to Israel.
The singer, who is in Tel Aviv to perform as part of his My World Tour, said photographers had prevented him from exploring the country with his family.
"I want to see this country and all the places I've dreamed of, and whether it's the paps or being pulled into politics, it's been frustrating," he wrote on Twitter.
He said that he wanted "the chance to walk where Jesus did" and that the paparazzi should "have some respect in holy places".
Bieber's anger also follows a report on TMZ that claimed he upset the country's prime minister Benjamin Netanyahu by refusing to visit some children.
A spokesperson for the singer denied that a meeting was ever planned.
Bieber's My World Tour called in the UK and Ireland earlier this year with support from Willow Smith.
(by Jason Gregory)