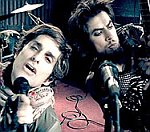 Jane's Addiction
star
Perry Farrell
has said he believes
Lady Gaga
is "on the cutting edge" of music.
Farrell, who has booked Lady Gaga to headline Lollapalooza in Chicago next month, said he was initially unsure about the singer.
But since seeing her perform live during an early afternoon set three years ago, he said he had been won over.
"Her presentation is so overwhelming that some may overlook the music ... but the truth is, her music, to me, is right where music should be," Farrell told MTV News.
"It's on the cutting edge, but it's [also] in the crosshairs of where every musician is aiming these days."
He added: "She's this hybrid of Yoko Ono, sort of the Plastic Ono Band meets Madonna meets Elton John.
"She's this beautiful crossing of those things [that] every musician is looking to find. Everyone's looking for that sound, and I think she really hits it."
The Strokes, Soundgarden, Green Day and Arcade Fire are also due to perform at Lollapalooza next month.
(by Jason Gregory)