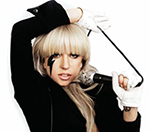 Grammy
organisers have announced changes to the eligibility rules for the Best New Artist category.
It comes after Lady Gaga was left out of this year's shortlist because she had previously received a nomination.
The award was eventually won by the Grammy act The Zac Brown Band, who have enjoyed little success outside the US.
The changes mean previous nominees will now be eligible, as long as the artist did not win or has not released a full album.
Lady Gaga won two awards in February, including Best Dance Album for her debut album 'The Fame'.
(Gigwise)