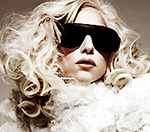 Lady Gaga
has revealed that she has finished work on her new album and plans to unveil it on New Years Eve.
The singer told Rolling Stone that the follow-up to 2009's 'The Fame Monster' would arrive early in 2011.
"I think I'm gonna get the album title tattooed on me and put out the photo," she said.
"I've been working on it for months now, and I feel very strongly that it's finished right now. It came so quickly. Some artists take years; I don't. I write music every day."
Lady Gaga went on to reveal that her new album would veer towards the political.
"The message of the new music is now more bitter than it was before," she said. "Because the sweeter the cake, the more bitter the jelly can be."
The singer also revealed during the interview that she was modelling herself on Michael Jackson.
(by Jason Gregory)