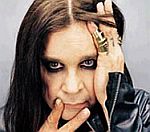 The Prince of Darkness himself,
Ozzy Osbourne
, has confessed that he "really likes"
Lady Gaga
.
The Black Sabbath legend believes Gaga is one of the few to stand out from the crowd in a music industry plagued by manufactured artists.
Asked about the music business in 2010, 61-year-old Ozzy told CNN: "It's completely different, they're manufactured people now... like ice cream.
"Every now and then somebody comes out and I really like them - I really like this Lady Gaga."
In the candid interview marking the release of his autobiography 'I Am Ozzy', he also spoke about his promiscuity and drug taking.
"With the sexually transmitted disease, what I was doing is playing Russian roulette with sex," said Ozzy.
"With the drugs, it nearly killed me on a daily basis - I did a lot of heavy drug taking for a long time and I survived it by the grace of God."
(by Scott Colothan)