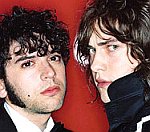 MGMT
have admitted they took inspiration from
Lady Gaga
and Kanye West when working on their upcoming second album '
Congratulations
'.
Andrew VanWyngarden from the Brooklyn duo said he tried to get into Gaga and West's mindset while recording the record.
"On some of the new songs, I found myself thinking about Lady GaGa or Kanye West, and what their ultimate goal is," he explained to Spin.com.
"This sounds cheesy, but for us it's really just about the music and getting people to hear what we have to say. I'm sure it's about the music for those people, too… but fame… it's an interesting career."
Last week Ben Goldwasser revealed to NME.com that no songs from 'Congratulations' will be released as singles.
"We'd rather people hear the whole album as an album and see what tracks jump out rather than the ones that get played on the radio – if anything gets played on the radio!" he explained.
"There definitely isn't a 'Time To Pretend' or a 'Kids' on the album. We've been talking about ways to make sure people hear the album as an album in order and not just figure out what are the best three tracks, download those and not listen to the rest of it."
'Congratulations' is tentatively released through Columbia Records in April.
(by Scott Colothan)