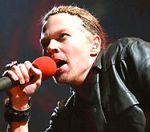 Songs by
Guns N' Roses
and
Oasis
are being used by parents to help send their babies to sleep, a new survey has found.
Nearly two-third of mothers now prefer to use modern pop songs instead of traditional lullabies.
Take That's 'Patience' is the most popular choice, while Oasis' 'Wonderwall' and Guns N' Roses 'Sweet Child O' Mine' are also used by mothers.
The Baby Website said it was surprised by the results, which indicate that mothers are beginning to incorporate songs they hear on the radio into their babies lives.
"We were really surprised to find that mums would rather sing modern pop tunes than traditional lullabies," spokeswoman Kathryn Crawford told the BBC.
"I expect most mums put the radio on when at home with the baby and the catchy lyrics make it impossible to sing anything else at bedtime."
The survey of 2000 mothers revealed that 13% thought lullabies were too old-fashioned.
Instead, they have turned to songs by the like of Duffy, James Blunt and Katy Perry to rock they babies to sleep.
(by Jason Gregory)