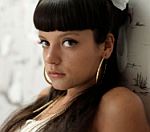 Lily Allen
has recorded a special cover of
Britney Spears
' recent single 'Womanizer'.
Allen's version was aired for the first time by producer Mark Ronson on East Village Radio last night (December 12th).
Ronson, who presents a weekly show on the New York based station, boasted about his exclusive before playing the cover.
"As promised, Lily has a habit of making some great bootlegs, remember her '[Nan, You're A] Window Shopper' send up?" he said.
"Check me out, I have a Lily Allen song you've never heard."
Allen worked with Ronson on her debut album 'Alright Still'. She is scheduled to release her second record, 'It's Not Me, It's You', on February 9th.
(by Jason Gregory)