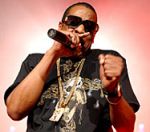 A new track purported to be from US rapper
Jay-Z
's forthcoming album, '
Blueprint 3
', has leaked onto the internet.
The song, entitled 'Brooklyn Go Hard', features Santogold and has been produced by Kanye West.
It is the latest track to emerge from the various recording sessions for the album, which will complete the rapper's Blueprint trilogy.
West, who has produced the majority of 'Blueprint 3', recently described Jay-Z's new material as "phenomenal".
West has so far leaked two songs – 'Jokin' Jay-Z' and 'History' – which are believed to be pencilled for 'Blueprint 3'.
Jay-Z has also promised that the album, the final part of his Blueprint trilogy, will include his reposte to T.I.'s 'Swagger Like Us'.
(by Jason Gregory)