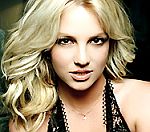 Britney Spears
has made her first UK television appearance in four years on the X Factor.
The pop star was dressed in a gothic blouse and black hot pants as she gave an electric performance her new single 'Womanizer'.
Asked by the show's host Dermot O'Leary what she thought of the programme, Spears replied: "Amazing, I met so many different people and I love being here in London. It's awesome."
She also wished the contestants, who had each covered one of her songs on the show, "good luck", and said her advice was to "just keep doing it."
Her appearance ended a short whistle-stop publicity tour which also included performances in Germany and France.
Spears releases her new album 'Circus' on Monday (December 1st).
Teen sensation Miley Cyrus had impressed earlier in the evening with a performance of her single 'Seven Things I Hate About You'.
Meanwhile, in the competition, contestant Ruth Lorenzo, who had covered Spears' 'I Love Rock 'N' Roll', was voted off the show.
(by Jason Gregory)