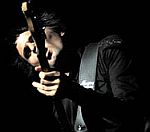 Muse
Frontman Matt Bellamy has revealed that a recent experiment with drugs made him feel like he was in a Salvador Dali painting.
Bellamy, who said he wasn't in favour of narcotics, said he only took them once a year because the hallucinogenic trip "opens new doorways".
Recalling a trip on a bouncy castle at a Las Vegas fancy dress party, Bellamy said: "Dom [Howard, Muse drummer] had a dog mask on and he ran off into the desert and I ran after him. For a minute I was actually in a Salvador Dali painting.
"If you look at his painting 'The Elephants', I was the little person at the bottom of those elephants' legs," the singer told Q.
(by Jason Gregory)