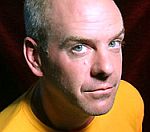 DJ Norman Cook, who currently operates under the name
Fatboy Slim
, has revealed that he plans to retire his current pseudonym.
The DJ, who is scheduled to headline this years Wireless Festival in July, said that after 11 years it was time for a new identity.
"Yes, I am ditching the Fatboy Slim name but I can't tell you the new one," Cook said.
"I'm going to take the Fifth Amendment on that question and not say because I'll get myself into trouble."
In an interview with the Sun, Cook agreed that the change would help increase his current Guinness World Record for having the most top-40 hits under different names.
"I hadn't thought of that so if hypothetically there was one more... I'm changing my name to Madonna." He said.
(by Jason Gregory)