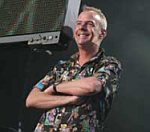 Fatboy Slim
has vowed never to record a World Cup song - because he believes they are "all a bit wrong".
The DJ said he had been asked to write tracks in the past but had always turned the offers down.
His comments come just a day after Dizzee Rascal and James Corden topped the UK singles chart with 'Shout For England'.
"I have been asked to do quite a few bits but I just think it's all a bit wrong," he told the Daily Record. "I love football and I love making my own music but I just think the two things should never come together.
When asked what he thought about Rascal and Corden's number one single, Fatboy Slim replied: "Well, it is all right, I suppose. Sorry, Diz."
The DJ was a number of acts who took part in last weekend's RockNess festival in Scotland.
(by Jason Gregory)