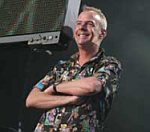 DJ
Fatboy Slim
has entered rehab in an attempt to overcome a problem with alcohol, it's been reported.
The 45-year-old DJ checked into a clinic in the South of England "voluntarily", his manager, Garry Blackburn, said.
"It's all pretty straight forward. He has gone in voluntarily to sort out his drinking problem," Blackburn told the Daily Mirror newspaper.
Friends of the DJ told the newspaper that he had been battling a drink problem "for some time".
In an interview in 2005, Cook, who is married to DJ Zoe Ball, spoke about his relationship with alcohol.
"Fatboy Slim is my alter ego — he's confident, a bit of a show-off. It takes me until midnight to psych myself into him," he said.
"Externally, the difference between me and him is a bad Hawaiian shirt and half a bottle of vodka. Sometimes it feels a little undignified but I never seem to get tired of getting drunk.
"I've tried going on stage sober and it wasn't much fun.
"There's a certain bravado involved in what I do. It takes a lot of alcohol to stop me thinking 'You're a 40-year-old man. What are you doing whirling that towel above your head'?"
In 2002, Cook denied reports which claimed he had entered a rehab facility in order to treat a problem with alcohol.
(by Jason Gregory)