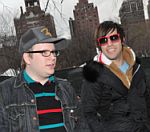 Fall Out Boy
were forced to cancel an impromptu gig in New York yesterday (December 15th) after they failed to obtain the correct permit.
The band were due to preview tracks from their new album, 'Folie A Deux', for fans in Washington Square Park.
However, they were forced to perform acapella after the New York Police Department warned that if they performed with their instruments they could face jail.
"This isn't looking good," bassist Pete Wentz told frontman Patrick Stump. "But let's try to do it anyway."
The band led fans through a sing-a-long of their 2003 hit 'Grand Theft Autumn/ Where Is Your Boy'.
Stump told MTV afterwards he felt "bummed" that they weren't allow to perform, adding: "Those cops back there - and I have no problem with the cops, trust me - but those cops were like the Grinch. They just took all the presents."
Wentz first told fans about the gig via his blog on Sunday (December 14th).
(by Jason Gregory)