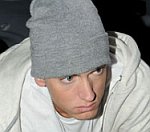 A collection of nine unheard
Eminem
songs have leaked online.
The tracks, which have been brought together under the title 'Straight From The Vault', were uploaded to a hip-hop forum.
The origin of the songs, which include collaborations with D12 and Obie Trie, are unclear, but the lyrical content appears to date around Eminem's 'Relapse' album period in 2009.
One report claims the songs could have been penned for the album's scrapped sequel, 'Relapse 2'.
Meanwhile, Eminem will headline this year's V Festival alongside Arctic Monkeys. Other acts on the line-up include Rihanna and Plan B.
The tracklisting is:
The People's Champ (Intro)

Get Money

Emulate (feat. Obie Trice)

Ballin' Uncontrollably

Going Crazy (feat. D12)

Wee Wee

G.O.A.T

The Apple

It's Been Real (Outro)
(Gigwise)