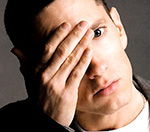 Eminem
will release a new EP with fellow Detroit rapper
Royce da 5'9"
.
The as-yet-untitled album will be released on Eminem's Shady Records on June 14, reports Vulture.
The album will see the pair reunite after they previously performed together under the name Bad Meets Evil.
Meanwhile, Eminem, Muse, Coldplay and Foo Fighters will headline this year's Lollapalooza festival in Chicago. Tickets for the festival are on sale now.
(by Holly Frith)