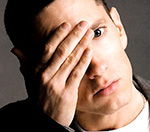 Eminem
is among the latest hip-hop stars to pay tribute to the late rapper
Nate Dogg
.
The rapper, most famed for his hit 'Regulate' with Warren G, died on Tuesday (March 15) at the age of 41. A cause of death has not been released.
Eminem worked with Nate Dogg on his 2002 track 'Till I Collapse'.
"Nate's voice in music will never be replaced. He helped create the blueprint for West Coast hip-hop, and I was one of the lucky people who had the privilege to work with him and the honour to have him as a friend," Eminem told E!Online.
He added: "Nate will be sorely missed. My condolences and prayers go out to his family and loved ones."
Ludacris, 50 Cent and Snoop Dogg have all recently paid tribute to the star, who had been battling with health issues since suffering two major strokes.
(by Holly Frith)