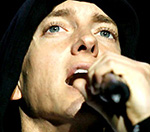 Eminem
has become the most popular person – living or dead – on Facebook.
On Saturday (March 12), the rapper passed 30 million Facebook 'likes' – 12 months ago he had secured just 2.7million followers.
Lady Gaga is the second most popular celebrity just behind Eminem with 30,106,945 likes, according to Fame Count.
Michael Jackson is the third with 29,858,683 fans, while Rihanna is ninth. Justin Bieber and Lil' Wayne are also inside the top-20.
Meanwhile, Lady Gaga surprised fans at a gay bar on Saturday (March 12) by making a surprise appearance alongside a drag queen impersonator.
(by Jason Gregory)