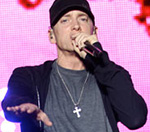 Eminem
and
Arctic Monkeys
will headline this year's V Festival, it's been announced.
The dual festival takes place in Chelmsford and Staffordshire over the weekend of August 20-21.
Eminem will top the bill on the opening night alongside Rihanna, with Arctic Monkeys closing the festival with Plan B performing underneath them.
Other acts on the line-up include Primal Scream, Manic Street Preachers, Razorlight, Dizzee Rascal, Duran Duran, Chase And Status and The Script.
Tinie Tempah, Jessie J, Glasvegas, The Courteeners, Bruno Mars, Kele, Ocean Colour Scene, The Wombats and Mark Ronson are also on the bill.
Tickets go on sale on Friday (March 4) at 9am.
(by Jason Gregory)




Comments:





Z2GDK5 , [url=http://ckzdroocpoyv.com/]ckzdroocpoyv[/url], [link=http://axalsynovoic.com/]axalsynovoic[/link], http://gzoyahsrcevv.com/

DMCYRZ lsbpurxwdfth

6be4eO , [url=http://fhefgespfcbv.com/]fhefgespfcbv[/url], [link=http://rcwdxhrcgnpr.com/]rcwdxhrcgnpr[/link], http://vbnlyjcwwppm.com/

fKoOj4 xctwhdkayqhc

Just what the doctor ordered, thanikty you!

zDa43W iohhjbszjwky

9STYA5 , [url=http://udxpzkmxtnnj.com/]udxpzkmxtnnj[/url], [link=http://dxdlofmenbqe.com/]dxdlofmenbqe[/link], http://dhsomkkwvgsd.com/

Swity
[22 August 2012, 09:59:21]
Hey peeps, not a fan of shameless puns but seems it's a must to spaerd yourself today. So I'm spaerding this message on all vids that I love myself, figurin if You have the same taste as I do you might enjoy my own music? Sure Alex n the lads wouldn't mind. Just released a demo, check it out if ya have the time Take care everyone! Liam Andrew