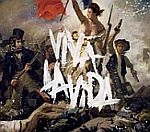 Coldplay
are being sued by an American guitarist who claims one of their songs incorporates "substantial original portions" of a track he released four years ago.
Joe Satriani, 52, believes the melody in Coldplay's 'Viva La Vida' resembles the guitar riff in his instrumental song, 'If I Could Fly'.
The copyright infringement lawsuit, filed yesterday (December 4th) at Los Angeles Federal court, seeks jury trial, damages and "any and all profits" linked to the track.
'Viva La Vida', the title track from Coldplay's latest album of the same name, is credited to the band's four members: Chris Martin, Johnny Buckland, Will Champion and Guy Berryman.
'If I Could Fly' featured on Satriani's 2004 album 'Is There Love In Space?'.
(by Jason Gregory)