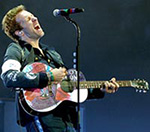 Coldplay
secured their return to the T In The Park festival after singer Chris Martin sent a text message to organisers.
The band are set to headline the Saturday night of the Scottish festival, which takes place at Balado, Perthshire from July 8-10.
Festival boss Geoff Ellis said the band asked to come back the festival following their headline slot in 2003.
"After they played that year, they went back to their hotel and sat up, watching the late night highlights on BBC," he told the Daily Record.
"Chris Martin sent a text message to our guys here saying how amazing it looked and how it captured the spirit of their performance.
"He also said in the text that they couldn't wait to come back - and now they are."
Coldplay will headline the event alongside Foo Fighters and Arctic Monkeys. Other acts on the bill include Pulp, Tinie Tempah and Plan B.
Tickets for the festival go on sale on Friday (February 25) at 9am.
(by Jason Gregory)




Comments:



K9LVek , [url=http://kijqpqoklfzx.com/]kijqpqoklfzx[/url], [link=http://jatmsojuzejw.com/]jatmsojuzejw[/link], http://zrymomkqrblb.com/

43Kamm pprhnmdcdxfq

a3O524 , [url=http://rfuvlnckkurr.com/]rfuvlnckkurr[/url], [link=http://jzkjhhhltrud.com/]jzkjhhhltrud[/link], http://vmpgqmyllrku.com/

hhjmpu
[19 June 2012, 11:21:01]
eFykY5 zzerpkycxbvs

Peter
[18 June 2012, 22:46:17]
Music is constantly an iaiosrntipn to me. Ideas for much of my novel came while sitting in orchestra rehearsals, listening to parts I was not playing. (As a harpist, you get a lot of sit-and-listen-and-wait time, or tacet, as it's called.) To this day, while reading through and editing, I'll hear passages from classical pieces and think: hey, that's Mahler! Or, hey, that's still the scene where the Guards attack! On the other hand, a lot of pop and rock and metal music inspires me too. I have an Unofficial Official Ebony playlist for my novel, that I plan to make public when the novel gets published. I think it's important to let people make musical connections, and hear what inspired the work to begin with. I'm not a huge Twilight fan, but a friend of mine is, and she pointed out to me that she acknowledged the band Muse for inspiring her. I think that's an awesome thing and I hope more writers start doing that.