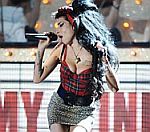 Amy Winehouse
has been released on bail after
being arrested
over alleged drug offences.
The singer was questioned by officers yesterday (May 7th) after voluntarily attending a police station in East London.
A Scotland Yard spokesperson said Winehouse was arrested in connection with a video that was passed to the Metropolitan Police in January.
In January this year The Sun published stills from a video that allegedly showed the singer smoking crack cocaine.
Winehouse's arrest comes less than a month after she was arrested and cautioned by police for slapping a man with an open hand in North London.
The incident took place following a night out in the Camden area of the city.
(by Jason Gregory)