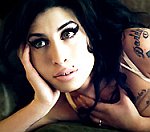 Amy Winehouse
is rehearsing new material ahead of her comeback tour in Brazil later this month.
The singer is due to play four dates, including a headline gig at the Arena in Rio de Janeiro.
Her backing singer Zalon posted a message on Twitter of Winehouse and her band preparing for the shows.
"Amy Winehouse, Zalon, Heshima and band rehearsing for Brazil tour! Get Ready! New songs," Zalon wrote on Twitter.
It is the first time that it has been confirmed that Winehouse has written new material, but it is not clear whether the songs will feature on her new album.
Winehouse's last LP, 'Back To Black', was released in 2006.
She has not completed a full concert since 2008, although she recently played two low-key gigs in London.
(by Jason Gregory)