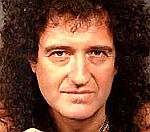 Queen
guitarist
Brian May
has launched what he has called a "rescue operation" to save the struggling digital radio station, Planet Rock.
The station, which is part of the GCap Media group, faces closure at the end of the month if it can't find a buyer.
"I can't tell you who I am 'in league' with, but I am part of a small group of people who have great hopes that we will succeed in taking over the station, and putting it on a firm footing, for the benefit of its growing audience," May said, in a statement on his website.
May said Planet Rock was "more than just a radio station".
"It is a symbol of free radio ... radio which is not run by large corporate organisations for the purpose of making tons of money, and has a free choice of what it plays."
GCap Media, which also owns TheJazz, announced in February that its national digital stations would be closing following its decision to move away from DAB radio.
It's believed that May got involved in the effort to save Planet Rock, which boasts guest presenters such as Alice Cooper, after fans emailed him seeking help.
The Queen guitarist said he was willing to put his money and expertise behind an effort to save the station.
(by Jason Gregory)