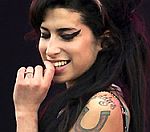 Amy Winehouse
's producer
Mark Ronson
has declared that the singer is "not ready to record any music".
Speaking to Sky News, Ronson said that work he had begun with the singer on the next James Bond Theme had been halted.
Speaking about the possibility of completing the project, he said: "I don't think so unless by some miracle of science it gets recorded and someone sings a vocal on it so probably not."
Winehouse was cautioned by police last week after she admitted to slapping a man with an open hand following a night out.
A number of people, including the star's father, Mitch, have spoken out about the singer's safety.
In the News of the World on Sunday, Mr Winehouse said that he wanted his daughter to be sectioned in a mental hospital.
In addition to the singer's problems with drugs, Mr Winehouse said there was evidence that Winehouse had been self-harming.
(by Jason Gregory)