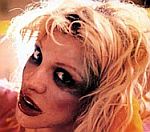 Courtney Love
omitted herself to hospital at 3am on Friday (May 2nd) complaining of chest and throat pains.
Love's spokesperson said that following a check up from Doctors, Love was diagnosed with Strep Throat.
Despite her throat problems, TMZ claim that one onlooker who saw Love after she left hospital said that she stopped to buy cigarettes.
"She looked pretty worn out," they added.
Love is currently co-producing Heavier than Heaven, a filmed biography of her late husband, Kurt Cobain.
Early reports have suggested that Love would like to be played by Scarlett Johansson in the film.
(by Jason Gregory)