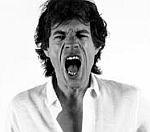 Members from rock and roll music's two biggest bands wanted to contribute to the movie A Clockwork Orange, according to a letter from the film's executive producer.
Writing to John Schlesinger, who was considering directing the film, Si Litvinoff said that the Rolling Stones frontman Mick Jagger wanted to play the psychotic criminal, Alex.
He also revealed that The Beatles had shown an interest in writing the score for the film.
"This film should break ground in its language, cinematic style and soundtrack (the Beatles love the project and Mick Jagger and David Hemmings have both been keen to play Alex)," Litvinoff wrote.
"After you've read the script and novel, I'm sure you will see the incredible potential we all see in this project."
In a return letter to Litvinoff, Schlesinger said that he would pass on the film because he wasn't sure if it was "the sort of subject I particularly want to tackle."
Stanley Kubrick went on to direct A Clockwork Orange, which was banned in the UK after the director received death threats.
The film was finally re-released on DVD in 1999 after the band was lifted.
(by Jason Gregory)