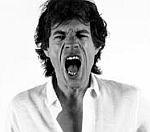 Rolling Stones
frontman
Mick Jagger
will take part in a tribute to
Solomon Burke
at this month's Grammy Awards.
The singer will be accompanied by Raphael Saadiq at the ceremony in Los Angeles on February 13.
It will mark the first time Jagger has appeared in person at the event. His only other previous appearance was via satellite from London in 1986.
Burke died on a plane in Amsterdam on last October after arriving on a flight from Los Angeles. He was 70.
The self-proclaimed King of Rock and Roll's biggest hit 'Everybody Needs Somebody To Love' was released in 1964, and was later covered by The Rolling Stones.
(by Jason Gregory)