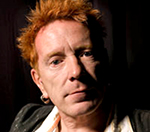 Sex Pistols
' John Lydon has said that being back with
Public Image Ltd
is one of the happiest times he has had.
The band are set to headline this year's Guilfest festival with Erasure and Peter Andre.
"It's the happiest time I'd ever been in a band environment. I'm not scared of large stages any more. I used to like small venues but large stages have an attitude and aura too," Lydon told the Daily Star.
He added: "Not 'cos we're so wonderful but 'cos other bands don't get it, they don't know how to 'rise'."
Last year John Lydon postponed sessions for Public Image Ltd's new album following the death of his step-daughter, Ari Up.
(by Holly Frith)