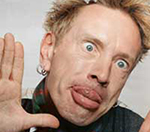 Sex Pistols
frontman John Lydon has congratulated Prince William on his engagement to Kate Middleton.
The former punk star hailed their relationship as a "beautiful love story", and insisted he didn't "hate" the Royal Family.
"When I heard William had popped the question to Kate, I had a nice cup of tea for them," he told The Sun. "Later on, I might even put some bucks fizz in my veins in their honour."
The Public Image Ltd star went on to explain that his "my animosity is towards the institution, not the people themselves".
He added: "What I've always resented with the Royals was the austere nonsense that was being propagated.
"But Willy and Katy look like they are genuinely in love and that's all I look for. That's what being a human being is all about. That is what is important in life."
Prince William, who is second in line to the throne, and Middleton announced their engagement on Tuesday (November 16).
(by Jason Gregory)